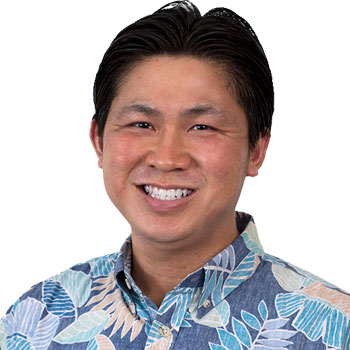 Ryan Oda
Realtor (RB-23073)
---
Ryan Oda is a veteran Real Estate Advisor with Forward Realty, one of Hawaii's top boutique real estate firms. Since joining the real estate industry in 2013, Ryan has earned numerous accolades for his personal approach to client service.
Ryan specializes in residential and commercial sales. No transaction is too big or too small for him; he enjoys meeting the needs of the everyday buyer and seller. His niche is millennial, first-time homebuyers. In addition, Ryan has vast experience in trust sales and 1031 Exchanges.
At Forward Realty, Ryan was instrumental with the rebranding of the company in 2017. He also has trained and mentored the firm's new agents and summer interns. In addition to his personal sales, he is a member of Forward Realty's top real estate team. Together, Greg Andrasick and Ryan bring a client-focused team approach to real estate sales and they have collectively closed tens of millions of dollars in real estate transactions.
By developing a unique marketing strategy for himself, other business professionals have engaged Ryan to learn more about social media strategies. His clients range from a local non-profit to a political campaign. Ryan is also the Social Media Director for Forward Realty.
Born and raised in Honolulu, Hawaii, Ryan is a proud graduate of Iolani School. Ryan later continued his studies at the University of Hawaii at Manoa. Upon receiving his bachelor's degree, Ryan obtained his master's degree from the University of Southern California.
Ryan remains active in the community. He's a volunteer football coach at Kalani High School, he's a class representative, and affiliated with The KA'I Program at Iolani School.
Learn more about Ryan at Ryan's Blog.
ACCOLADES:
2022 Overall "Top Producer Award"
2022 Honolulu Magazine's Best in Real Estate
2021 "Top Producer Award" (2nd Quarter)
2020 Awarded "Senior Advisor" Designation
2021 "Top Producer Award" (2nd Quarter)
2019 Overall "Top Producer Award"
2019 "Top Producer Award" (2nd, 3rd and 4th Quarter)
2019 Aloha 'Aina Nominee, "People's Choice" Award
2018 Aloha 'Aina Nominee, "People's Choice" Award
2017 Aloha 'Aina Nominee, "People's Choice" Award
2017 Honolulu Magazine's Best Realtors
2016 Aloha 'Aina Nominee, "People's Choice" Award
2016 Honolulu Magazine's Best Realtors
2015 Aloha 'Aina Nominee, "People's Choice" Award
2014 Aloha 'Aina Nominee, "People's Choice" Award
---